25 comments Add a comment
Is it just me, or does anyone else agree that a minority of responsible pensioners are being marginalised, exploited, excluded, and ignored by the UK government?
There are 12,640,000 (rising daily) pensioners in the UK and by far the majority are well catered for by the state with the provision of social security benefits, pension credits and the like; over and above the basic pension.
For those in genuine need this additional welfare disbursement is right and proper. Among this number though there is a minority of responsible pensioners who are consistently marginalised, exploited, excluded, and ignored by UK Government.
Read on and determine for yourself whether you fall within the category of responsible marginalised pensioners.
Did you pay taxes all of your working life?
Did you fulfil your obligation on National Insurance Contributions (NIC)?
Did you make provision in order not to become a burden on the state: SERPS, modest works or private pension, annuity, whatever?
Are you still paying tax in retirement?
Perhaps like me you are now beginning to wonder whether or not it was all a waste of time? You look around and see other pensioners who contributed little or nothing to the system drawing largesse from the public purse while you are excluded, struggle to make ends meet with the ever-spiralling cost of living, and find yourself delving into meagre savings just to stay afloat.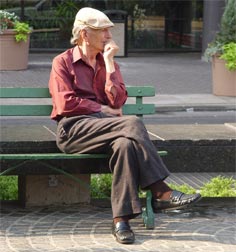 You pay in, they draw out; you get next to nothing!
Do you pay full council tax?
If you pay rent, do you pay the full amount?
Do you pay for eye care?
Do you pay for dental care?

Are you excluded from these state benefits?
Pension credit
Council tax relief
Rent allowance
Cold weather payments

Then you come across a government announcement that provides a glimmer of hope:
UK PENSIONERS MISS OUT ON OVER 2 BILLION OF CASH - A quarter of all pensioners (or over 3.16million) are not claiming their pension credits. Over 2 billion worth of pension credits will go unclaimed this year...
Oh yes? Try claiming pension credit if you fall within my definition of marginalised pensioner. All you will get is a curt answer advising that you are above the threshold and therefore excluded. Do not misunderstand me... Where legitimate need is identified, I am all for state intervention to ease the way, but the system is unfair, discriminatory, and the disbursement of welfare assistance uneven.
In excessively cold weather for example, do marginalised pensioners not freeze as much as those on benefits who qualify for cold weather payments? You are being marginalised, exploited, excluded; ignored by UK Government - and all because throughout your working life you were responsible and contributed in full to the system!
And not only will this injustice continue; it will get progressively worse for future generations of responsible marginalised pensioners unless we stand up now and be counted by exercising a concerted voice of protest.
Would you agree that UK Government operates an uneven policy in its welfare disbursements to pensioners?
Would you agree that responsible pensioners who veritably paid their dues during the working life should be exempt from council tax in their seventies, eighties, and beyond?
Would you be interested in joining a Marginalised Pensioners Protest Campaign?
Would you be proactive in promoting it?
If you agree with my gripe please sign the following petition:
Justice for Marginalised Pensioners
Leave a comment