405 comments Add a comment
I can sympathise with cyclists when they say that they feel unsafe and threatened on our roads due to the amount of traffic and of course through the actions of selfish drivers. Traffic volume has increased quite dramatically over the years and our cyclists on the road are not always well catered for.
What I don't understand is why some of them, when after they've acknowledged that a fast moving metal object can seriously injure someone, ride their cycles on the footpaths, weaving between people, creating obstruction and generally risking the health and wellbeing of pedestrians, in order to avoid being injured on the road themselves. Pedestrian crossings seem to be fair game to them as well. Children and especially the elderly stand very little chance if hit by a solid speeding handle bar in the ribs or step out of a shop and into the path of one of these inconsiderate individuals.
Not only that but when confronted about their antisocial, illegal and dangerous "driving habits" they either immediately assume the moral high ground and arrogantly tell you to get out of their way, or you're ignored as if you don't exist, the very same behaviour described when they complain about inconsiderate motor vehicle drivers on the road. If you wish to come off a stretch of road and use a footpath, get off your bike and push it. It's the law.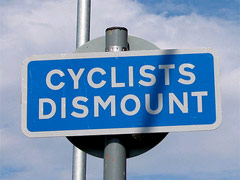 Just one example; not so long ago my wife and I were on holiday in the Lakes and were walking along a narrow footbridge which clearly bore the sign, "Cyclists Dismount" and even had a picture of a bike with a red line through it as you entered onto the bridge itself. Halfway across the bridge and we were forced to squeeze ourselves to the side as a cyclists came past, tutting at the inconvenience of our presence and having had to slow down. Of course we were just ignored when we pointed out and quoted the signs at either end of the bridge.
Would any cyclists who do this like to explain why they put others at risk of injury, I'd be interested to understand the reasoning for your actions.
Cycling is a popular and healthy alternative to the motor car with the obvious environmental advantages, but please, don't justify your actions by saying that cycling on the road is too dangerous for you and then transfer that danger to the pedestrian on the footpath.
Thank you.
By: Sandman
Leave a comment