66 comments Add a comment
You're driving your car along the road and come across someone in the road. You then stick your head out the window and yell to them, "move because I'm not stopping.." For whatever reason, they're still in your way and there's a collision as a result.
If they subsequently lost their life because you ran into them, you'd expect the judge to throw the book at you wouldn't you? You'd expect no less than to spend a very long time sharing a small space with a big guy called Ron and quite rightly so.
So why is it then, that a cyclist who did exactly this gets off with a £2,200 fine? (source: BBC News) It just doesn't make any sense and as the father of the young girl in this case said, the punishment was "laughable". Well I for one agree with him. It's about time the law was changed so that cyclists are as accountable for their actions as any other road user.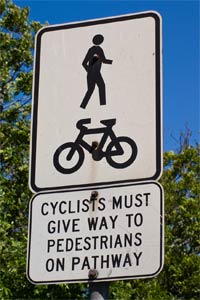 It's a few bad apples that spoil cycling for everyone
I've lost count of the number of near misses I've had with selfish cyclists over the years myself, particularly as a pedestrian in places like Oxford and London. Some of these idiots think they have priority over everything else around them, pedestrians, cars, because they're all treated with the same contempt. A quick ring of the bell and everything and everyone is supposed to get out the way. As for traffic lights, pedestrian crossings and pavements, they're all treated as cycle paths by these arrogant and selfish cyclists.
I'm not pointing the finger at all cyclists because I am aware that the vast majority of them are law abiding and considerate. It's a few bad apples that spoil cycling for everyone and by the way, I don't advocate a change in the law to such a degree that cycling becomes inaccessible.
Accidents involving cyclists, and in particular relatively rare cases where pedestrians have come to harm should be at least be treated as seriously as they deserve to be. What say you?
Leave a comment