322 comments Add a comment
A friend of mine told me recently of the dangers she has encountered with cyclists, especially when crossing busy roads in London. When the traffic lights turn red and cars have to stop to let pedestrians cross, there is nearly always a cyclist who rides through the red light and almost hits these pedestrians. My friend who has difficulty walking has almost been hit by some of these people. It is almost as though they think its their right to go through red lights and not think of those who are crossing. Some of them have no patience either with pedestrians.
cyclists do dangerous and silly things
It is not just at crossings, but also on roads I have seen cyclists do dangerous and silly things. Firstly, on very busy roads they take their families of very young children to cycle. Personally I think this isn't safe as its an accident waiting to happen. Some cyclists have their baby/toddler strapped in front of them. Isn't that illegal and shouldn't the child be seated on a bike? Also, I once saw a cyclist spit on the road whilst cycling along. Absolutely disgusting. Then there are those that seem to think its okay to make rude gestures at those who drive cars for some misdemeanor.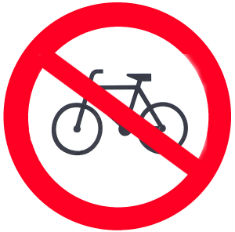 There is a cycle lane near my house which has the purpose of providing a place for cyclists to cycle on instead of the main busy road running parallel to it, but some of them use the road instead which defeats the whole purpose of the cycle lane and it makes it difficult for those driving as they have to slow down to get by them.
Some cyclists don't use lights when cycling in the dark. So how is anyone meant to see them and avoid hitting them at night? Once a cyclist hurled abuse at my mum when she was out driving one night saying that she should read the highway, even though he was actually the one at fault for not wearing fluorescent clothing at night and making sure he could be seen!
In Richmond Park, when I was with one of my friends we were almost ran over by a guy riding his bike and he was so rude to us saying we were in his way. When they are in Richmond Park theyre supposed to use the roads which makes it difficult for drivers to get anywhere in the place, not to mention how dangerous it is when there are lots of cyclists in the area. They slow the traffic down as well.
I understand that cycling is a green alternative to get to places but it is not that safe in my view. I have never ridden a bike because of bad experiences. I'd rather use bus, car, train or even a horse to get to places. In fact, if people REALLY want to be green then they should ride a horse to wherever they are going - provided there is not too much manure left on the road of course!
By: Angry Autistic Female
Leave a comment