28 comments Add a comment
I just moved into a new house and decided to get a BT landline installed, as there was no line into the house. I called BT on a Thursday (29th), paid the appropriate fees, and made an appointment for the following week. The next morning (30th) my mobile rang. The engineer was outside my house to put my phone line in without an appointment or prior notice.
I was already at work for the day, but went back home anyway (I have an amazingly flexible job). The engineer installed my line but since I hadn't purchased a phone, he plugged his handheld thing in and I heard a dial tone. He left and I went back to work, happy it was over with so fast. My husband and I bought a phone that evening and we noticed that the line was incredibly noisy so much so that you couldn't hear the other person talking. We tried three different phones to no avail. I called BTs fault line from my mobile and ended up making an appointment for an engineer to come out. The nearest appointment was Wednesday (5th) from 8-1. I used annual leave and booked the day off.
They promised to confirm the appointment...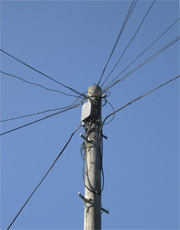 I sat around in my living room waiting. And waiting. And waiting some more. Finally, at 12:30 I called BT. They said I didn't have an appointment that day and no one was coming. After about 2 hours on the phone, it was established that it was a technical fault and an appointment wasn't sent to the engineers. They apologized and offered to book another one for Friday (7th) afternoon. I said I wanted confirmation of the appointment the next day. No one called, so I called BT. I didn't have an appointment booked for Friday because of another technical glitch. I then booked one for Monday (10th) between 1-6pm.
They promised to confirm the appointment. It was confirmed later when I called them, so I booked Monday off. Again, I waited. And waited. And waited some more. By 4:45pm I was worried and called BT. The engineer had been held up at a job and wasn't coming. No one had contacted me to let me know. Needless to say, I was rather angry. I didn't swear or cry or anything silly like that, I was just mad. They offered yet another appointment, which I took for Wednesday (12th) (my third in a week) from 1-6pm again.
The morning before the appointment (Tuesday 11th) I got a phone call at work. It was the engineer and he was outside my house a full day and a half early. By this point I just wanted a usable phone line, so again I went home. It was a problem up the telephone pole, not something I could have fixed myself. I was grateful to have it sorted but mentioned the hassle Id went through.
Turns out, it was that engineer that hadn't shown up the day before! He didn't even seem sorry for it nor did he apologize. He wasn't at all bothered thatd hed phoned me without an appointment either. Frankly, he was a jerk. Glad to have it done, I went back to work. Over the next 30 mins, I got three calls from BT. One to confirm Wednesdays appointment (ha!), one to check the work had been done because I wasn't answering the land line, and a third from customer service asking how Id found the service. I lodged a complaint and was told that the only compensation I might get is 10 for each lost day of work (after I deal with all the forms).
The more I think about it the madder I get. How could a company treat someone like this? It was an error on so many different peoples parts that no one will get penalized. I'm not sure the best way forward now.
By: Mrs. A.
Leave a comment