29 comments Add a comment
What is wrong with city and town planners who are laying waste to England's town and city centres? Opportunities for real development and the chance to create a vibrant, pleasant, living environment are being wasted by these unimaginative and thoughtless town planning committees. Manchester is a prime example of this and I am sure there are countless other places around the country like it.
Walk around Manchester city centre and you'll feel your spirits sink...
The city centre is rapidly turning into a grey, dirty, 'retail park-like city', with temporary structures that will either be knocked down in 10 or 20 years time, or will come tumbling down with decay and neglect, a sad indictment to the twentieth century and early twenty-first century people who are failing to leave any lasting legacy of beautiful, innovative buildings that are worthy of lasting care and attention.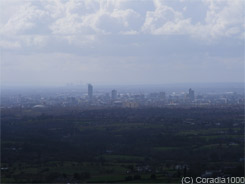 Walk around Manchester city centre and you'll feel your spirits sink as you are bombarded at every turn with the 'grey', the 'concrete', the 'dirt', the 'bleakness'. Grey walls and grey paving stones predominate. Look for any green oasis in this concrete wasteland and you will almost certainly fail to find one in Manchester because they are almost non-existent. The closest is Piccadilly Gardens, dominated by a grey, concrete wall, ideal as a point of urination at the weekends as is testified by the smell on Saturday and Sunday mornings. It has a noticeable lack of focal point, with a floor level 'gimmicky' fountain sided with patches of grass, all of which lend to a 'bleak', inhospitable environment.
Manchester's city centre planners should be ashamed of themselves.
By: miserablemoaninggit
Leave a comment