34 comments Add a comment
Vomit! I'm sorry, but there it is... all over the streets every week and quite frankly I'm sick of it!. Saturday and Sunday mornings the detritus of another night of binge drinking and kebab eating. Haven't the British public got anything better to do on a weekend?
Last Saturday I set off for an early shift at work and literally had to pick my way around these disgusting puddles of vomit, now one week on these disgusting puddles have dried to nasty patches in the summer heat. Some would say don't look down, but if you don't look down who knows what horrors you will tread in. Who's to blame and who should clean it up?
I am dismayed that my local council are spending a kings ransome, gleaned from our council tax, installing a fountain in our town centre, which is a bit like trying to make a silk purse from a sows ear to be honest and guess what's going to be in the fountain every week? Presumably more puke! We can now look forward to seeing the stuff sloshing around in the fountain on a Saturday morning.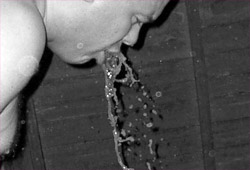 binge drinking associated illness...
How about some good old fashioned street cleaning? In my opinion the councils don't clean the streets nearly enough to cope with deluge of binge drinking associated illness! And to all those business owners who open their shop doors and don't seem able to wash the previous nights deposits from their front entrance, you'll understand if I don't spend my hard earned money in your establishment.
By: Magnolia
Leave a comment