24 comments Add a comment
There's usually a lot of nasty colds and outbreaks of flu going around at this time of year. We all pick up a bit of lergie from time to time but perhaps if some people were a bit more considerate and didn't spread their germs around, we'd all be a lot better off. My gripe is specifically those selfish individuals who think that it's okay to sneeze all over you!
I'm sat in the computer room of a large university, surfing the net rather than doing any work. A guy has just come and sat opposite me. I could tell straight away that he had a cold by the way he was sniffing and clearing his throat. My first reaction: Oh no - Christmas next week - really don't need a cold. Never mind, I thought, I'll just finish an email and log off.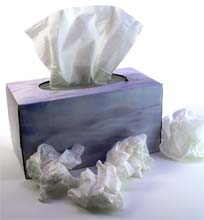 Three big sneezes that made everyone jump...
Then it started, three big sneezes that made everyone jump. No attempt whatsoever was made to cover his mouth and contain the sneeze. Obviously he thought it was okay to infect everyone with his disgusting germs in this way.
I got up and started clearing away my stuff and he looked puzzled. As if to say, I've only just sat down, why would she want to move? Is the cretin so self-involved that he doesn't understand the basics of hygiene? Who the hell wants a cold or flu over Christmas? Selfish prat!! I could cheerfully wring his neck.
As it happens, I did manage to tell him the reason I was leaving but he still seemed puzzled. Then his girlfriend said 'Oh, is he sneezing over everyone again?', like this was something funny and nothing to be concerned about. Grrrrrr - I hate these selfish people!
Thanks for listening - I shall now go shopping to stock up on Lemsip.
By: NickyB
Leave a comment