12 comments Add a comment
The summer is here (we think) and a lucky few are heading off to lie on foreign beaches for a couple of weeks, whilst the rest of us who aren't so affluent will have to settle for a few days in a campsite somewhere in the UK. It's not actually as bad as it sounds and, if the weather is on your side a camping holiday in the UK can actually be good fun and quite relaxing. This isn't a serious gripe about a particular campsite or group of campers. I'm merely highlighting some of the little annoyances that go with the territory and perhaps poking a bit of fun at some of my fellow campers. By the way, not all campsites are the same and many of them are in fact quite good, but you might recognise some of what follows...
First of all let's talk about the campsite itself. Now I vaguely remember camping being relatively cheap, but that doesn't seem to be the case any more. It used to be a poor man's holiday, something families could do to have a little break without breaking the bank. So what happened?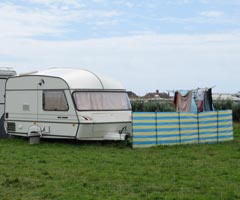 the prices on some sites seem to have doubled...
You naturally expect a pitch to cost a bit more during peak season, but the prices on some sites seem to have doubled since I last visited. Who's going to pay 25 to 30 to pitch a tent in a muddy field for a night? I suspect some unscrupulous site owners are cashing in on the whole recession thing and are fully aware that people just can't afford a foreign holiday this year. I know that the price of everything has gone up and would expect price increases but not to unrealistic levels.
If you've swallowed the price of the pitch the next thing you have to contend with is the convenience shop should the site have one. It's a perfect example of captive market, although we are of course grateful that we can buy a tin opener, a box of matches or a pint of milk should the need arise. The over inflated prices hurt though and we're still smarting from the the cost of staying the night - so don't expect a smile with that thank you!
Talking of expensive. I stayed in a campsite recently (Westbay in Dorset) that had a few fairground rides for the kids. We thought that it was a great bonus that this was on our doorstep. However, I don't think that it was exactly value for money. How about this? Two adults and two children, a minute and a half of spinning round and round, that will be 10 thank you very much! No wonder the rides were all practically empty all evening.
Shower blocks, toilets and sometimes a washing up area can be found on most campsites, but why are they nearly always disgusting? Do people leave their toilets at home in this state? Obviously you can't expect the site owners to clean them every hour so it's up to the campers to leave the facilities as they found them. This just doesn't happen though. There's always toothpaste over the sinks, toilets don't get flushed and there's a pool of muddy water outside the shower which seems to attract clothes and towels like a magnet. Oh, and someone always nicks the last of the loo roll so it's a good job I brought my own!
Finally, our fellow campers. They're usually an okay bunch because we're all there to have a holiday and enjoy ourselves, but there's always someone who doesn't give a toss about anyone except themselves. They play their music too loud, they hog the shower, let their kids and dogs run amok and you can guarantee they'll be first up in the morning to make sure everyone else gets woken up too. Why can't these gits just stay at home? We had the misfortune of having a large group of Polish people park up next to us on our last trip. They were loud until very late, woke everyone up with their shouting at the crack of dawn and then locked the shower room so that no one could get in.
None of this has put me off going camping. As I said, stuff like this happens and you have to take the bad with the good. One thing I do find amusing though, is the way people set up their little homes from home. They set up their boundaries with wind breaks, they've got a flag pole with their national flag (or a blow up fish!) so that it's almost like their own little castle. Some people even go as far as to take their TVs and other home comforts. I really can't understand this. Camping is supposed to be about getting away from it all. I actually saw one camper who'd taken their whirligig washing line! Wonder if they had a washing machine with them as well?
By: Happy Camper
Leave a comment