103 comments Add a comment
Using your neighbour's broadband or using someone's unsecured Wi-Fi network to connect to the Internet. This is something that has been in the news quite a bit recently and there have even been a few cases where individuals were arrested for "borrowing" someone else's Wi-Fi connection.
In my opinion however, logging on to someone's Wi-Fi network is NOT theft and how can it be seen as theft when the individual concerned in most cases doesn't even know and doesn't experience any actual loss? They didn't miss that tiny bit of bandwidth and if they did, why on earth did they elect to SHARE their Internet connection with the entire street?
Many people have tried to argue that it's simply a case of taking something that doesn't belong to you and to me that is absolute nonsense! If you're neighbour is in his bedroom listening to music with the window open and you are in the garden enjoying that same music, does that make you a thief? I think not. At the very least using someone's Wi-Fi network may be considered a grey area because you are not stealing tangible property and are not actually trespassing in order to take something. I just thought I would throw that one in there for those who would argue that it's the same as going into someone's living room and watching their TV!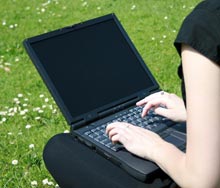 I don't advocate abusing someone's network by downloading gigabytes of music and films, or even worse something more sinister. But quickly checking one's email on the move, what's the harm in that? In fact recently I had to borrow a Wi-Fi connection a few months back for a few days when I moved house. You know how long it can take some ISP's to provide you with broadband, well this freely available connection enabled me to keep my business flowing smoothly and I'm pretty sure I wasn't a burden to the network concerned.
Good news on the horizon it seems. I recently came across something called BT Fon, which basically allows BT Total broadband customers to share part of their home connection in exchange for free access to this new wireless network community. Those of us who are a little more security conscious needn't worry as the public portion of the network is completely separate from the owner's broadband connection. It's a fantastic idea I think and one that I hope takes off and is picked up by other providers.
Leave a comment