80 comments Add a comment
Google Street View has finally been released in the UK. We've been waiting for this for ages having already enjoyed roaming the streets of other cities in Europe and the United States. I'm not sure if Google Street View is actually of any use for anything, but it's certainly a lot of fun to play with. Personally I have enjoyed taking a walk around the streets that I used to live on and visiting old haunts that quite frankly, it's too expensive to travel up and visit in person.
Some people just can't allow others to have a bit of fun and enjoy themselves without sticking their oar in and complaining about something. In the news today, Google has removed dozens of photos from its new UK Street View service. Of course Google has to comply with the wishes of the public and remove these offending images. For example, a man walking into an adult shop, another being sick in public and someone else being arrested. Yep, that's the typical British public for you, no wonder they don't want their mugshots in public view.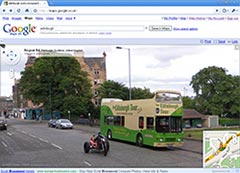 For all you know, you're already on a YouTube clip somewhere.
What a sad bunch of individuals, harping on about privacy concerns and spoiling it for the rest of us. These people are the type of people that really get on my nerves. For goodness sakes, they use face blurring technology and even if your coupon is visible on camera because the Google street van clocked you as it was driving passed, no body is really that interested anyway and if they are, they'll soon move on to the next 'innocent bystander'. At the end of the day, any bozo with a mobile phone can walk down the street, take pictures and video footage and probably to far more sinister things with the footage and you wouldn't even know about it. For all you know, you're already on a YouTube clip somewhere.
People go on about privacy way too much these days. I don't think that it's a big concern unless you've got something to hide. Privacy in your own home is one thing, that is and should be sacred, but privacy on the street? It's a public place if you're there then expect people to see you and whatever you happen to be doing there. I think that Google Street View is a good thing and the few miserable sods that whine and moan about their privacy should get a reality check.
Leave a comment