18 comments Add a comment
Now that the weather has warmed up a bit and were having the occasional heat wave - its time to have a gripe about something that makes me a bit hot under the collar!
How long are we going to be stuck with the deplorable BBC TV Weather Maps? Their dull brown and beige background illustrates what appears to be a Britain a few months after a nuclear attack - not a hint of green anywhere.
very difficult to glean the details of the forecast
The effect of these drab and boring maps is that it is very difficult to glean the details of the forecast - everywhere in the country looks like everywhere else! Also, the animated symbols for rain and cloud, etc., are just plain pathetic.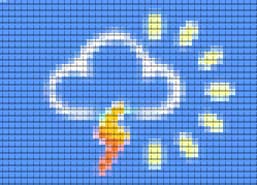 Sky's weather programme compared to the BBC - Clouds swirl and raindrops dance
Compare the BBC's poor performances with the superbly designed Weather Maps put out by Sky News. Every detail of the weather is beautifully illustrated against a colourful and attractive map of the British Isles. Clouds swirl and raindrops dance and the sun bursts through - it's a positive ballet of weather information!
Come on, BBC: you've wasted our licence money once again, but you should make amends by scrapping the present Weather Maps and get something as good as Sky News.
By: Oracle 2006
Leave a comment