12 comments Add a comment
Banks obviously still have way to much spare money if they can afford to send out as many unnecessary letters. For example, I received one earlier today informing me that my overdraft had been set up and reminding me of all the usual charges should I be stupid enough to go over my planned overdraft limit.
This is all very well, but I had rung them up a week or so before to tell them I wanted to downgrade my account from a select to a classic and I know my overdraft is still the same because I spoke to them in order to do this.
They confirmed my identity with the usual security questions. By the way, I did this to save myself around £8 a month. No car so don't need the road cover and no expensive mobile phone so don't need the insurance for that. There's no point in giving the bank money for something I won't use is there?
More to the point, they know that I know my overdraft is still the same because they refused to extend it. This, I thought was nice since I had been with them for over twenty years and in all that time had only applied for an overdraft extension once or twice. Well thanks for the help when I could really use it. I know banks aren't a charity, but at the end of the day I'd always been a good customer and they've made plenty of money out of me in interest and charges over the years. Perhaps this is the focus of another gripe though, however, I will certainly be taking my business elsewhere as soon as I possibly can!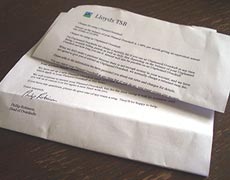 So back to my original point about the letters. Why do they have to send out so many of them? When I downgraded my account I received a letter informing me I had downgraded. Fair enough I suppose. On the other hand though, I did request this to happen. But why send out a second letter about the overdraft limit which wasn't going to change? There's also all the bank loan and credit card offers that they send me on a monthly basis, plus the letters that inform me how much they are charging me. I elected some time ago to receive electronic statements. I manage my account online and I have an email address (which they never use - fair enough as there's a lot of phishing going on). But the point is that I'm quite capable of logging on and checking my account, or worse case scenario I could pick up a phone if I'm that curious to know how much they're going to sting me for this month!
By: Fed up with LLoyds TSB
Leave a comment