46 comments Add a comment
Bottled water, it's just another pointless way to throw your money away. The public has been duped into buying this stuff, which often is manufactured in industrial estates despite pictures of idyllic vales appearing on the labels.
Also, the bottled water collected from its natural source picks up all sorts of minerals, which are beneficial, but potentially contaminants too. There just are not the rigid checks that tap water has to undergo, and consequently many bottled waters have high bacteria content and questionable 'purity'.
Some companies actually sell bottled tap water which they re-filter. How do they get away with this? Ok, good luck to the enterprising individuals but I think it verges on scandalous.
Bottled water, the healthy alternative?
Tap water has in the past had a bad press, whereas bottled water has been hailed as the healthy alternative. Research shows this to be wayward thinking. Besides, it's nonsense to pay such exorbitant prices for water - especially in garage forecourts. Are people really so gullible? Apparently they are.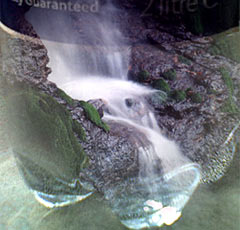 Here are two tips (and no, I don't work for any water authority or company):
First of all never re-use plastic water bottles for drinking as studies have proven that plasticisers and other constituent plastics leech into the water as the bottle slowly degrades. This may be accelerated by the use of fruit juices.
Secondly, store your own water from the tap in glass bottles in the fridge and in a cool bag in the car. If you're fussy, then buy a water jug filter to run it through first.
I see people in supermarkets all the time laden with big packs of water. Ok, they think they're doing right by their families. Not so - the motivation is good but the facts do not unanimously support bottled water as the healthy alternative.
By: H2O
Leave a comment