8 comments Add a comment
I have just come back from a live concert at the NEC arena in Birmingham and I have got to say that I am less than impressed with what I received for my money. Of course the bands that I went to see were great, at least I think they were because the sound quality was so dismal it was hard to tell. It was like listening to a radio playing in the bathroom of the house across the street!
We paid £42 each for our concert tickets which included all the usual booking fees. That's a lot of money for a few hours of live entertainment and I've heard stories of concert tickets that cost a lot more. Luckily we didn't shell out an extra £7 for parking having come by train but I consider £3.50 for a bottle of beer to be somewhat steep!
We were seated in one of the stalls, half way towards the back and on the front row. The view of the stage was okay, a bit small but you expect that with such a large venue and the large screens go some way towards compensating for that. It's the dreadful sound quality that has really put me off ever going to a venue like this again. The support band came on early and to be honest the standing area wasn't very full. I wasn't too worried about seeing them and therefore wasn't too concerned by the sound quality. I thought that as the place filled up there would be less of an echo and sound would naturally improve.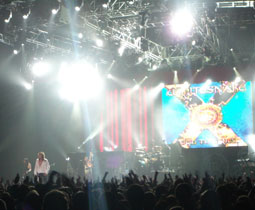 When the headline bands were playing the sound had improved somewhat, but not to the extent that I had hoped. The vocals were quite muffled and it was quite difficult to pick out individual instruments in the wallowing cacophony of sound. Not an experience to my mind that was worth the price of the concert ticket.
On another occasion I took my girlfriend to see Gary Moore and BB King at Wembley Arena. This was once in a lifetime opportunity and one that I was looking forward to. The experience here was quite similar except that you couldn't even see the artist on stage. Perhaps the sound quality at Wembley was a little better but they didn't have the large screens there and our seats didn't have a very good view of the stage. My girlfriend had to Google Gary Moore when we got home just to see what he looked like.
To be honest I'd rather go and see bands at the smaller concert venues where you can at least get a good view of the stage from all seating areas. The sound quality tends to be so much better at the smaller venues too so you get a better performance for your money. Going to see a band in a pub, community centre or civic hall too is easily a far more satisfying experience than the likes of Wembley Arena and the NEC arena. I don't think I'll be going to either of those venues any time soon.
Leave a comment