24 comments Add a comment
I hate Tuesdays because for some reason it's the kind of day that really drags on no matter what you are doing. It's a strange day, perhaps because it's a kind of 'nothing day'.
I mean we've got Mondays that mark the beginning of the week, then Wednesdays that are the middle of the week, Thursdays mean that we are one day closer to the weekend, and then finally you've got Friday, the last working day of the week and then it's the weekend. Yippee! But, Tuesdays don't really seem to have any purpose in my eyes. I think we should have 4-day weeks and 3 days weekends
Tuesdays child will fall flat on their face
Another reason I hate Tuesdays would be because of my job. We have this big update that goes through on a Monday night, which means that there are lots of problems to sort out on Tuesday morning.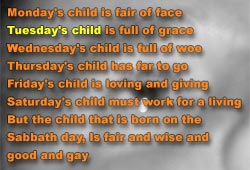 Also, thinking back to when I was at school, Tuesday was RE (religious education) day. Fortunately this didn't actually consist of any education other than cleaning out the pond in the courtyard of the science department. It was quite often rainy and cold though, so I have always associated this day with miserable weather and equally miserable tasks.
I vote that Fridays should be made another day of the weekend. Then we wouldn't have the usual horrible Tuesdays that we have now. It would be far easier to tolerate Tuesdays if you had a nice long weekend.
Leave a comment