13 comments Add a comment
Is The Foundation Phase - learning through play the way forward, or is it a backward step?
The Welsh assembly has introduced The Foundation Phase for Welsh kids in the infants classes. I am a teacher and I hate it! It was first introduced about three years ago and the philosophy behind it was that boys are turned off by school at an early age. They learn practically through play (not against that bit) and that sitting down for long periods is unnatural (granted).
very little emphasis put on sitting down, learning to write, spell, read and basic numeracy.
The Welsh assembly promised a ratio of 1:8 adults to children but then couldn't afford it. So now, in most classes there is one teacher and one helper and a class on average about twenty four kids, so a ratio of 1:12. The kids then play all day, with very little emphasis put on sitting down, learning to write, spell, read, and basic numeracy.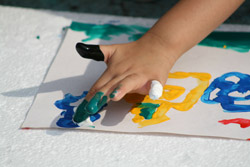 Kids have a choice of activities, great I hear you say, but my grandson chooses not to go to the reading table, or do any writing. Well what a surprise! Now, three years later, my granddaughter is behind in her writing and reading, half her class are receiving remedial support. And in my other grandson's school, he cannot hold a pencil, or sit still enough to listen to a story.
Chaos reigns supreme in schools so I have decided to step in and teach them myself in the evenings. I am a special needs teacher in a secondary school, but I now intend to work with each of them for half an hour, twice a week. I shouldn't have to do this though!!! This generation of infants are nothing but guinea pigs, sacrificed on the alter of progressive thinking. In ten years time they will be competing for jobs and university places with English kids, they will be behind and won't stand a chance. Then the Welsh Assembly will say something like "Standards are dropping and it's the fault of the teachers, let us go back to basics."
It's madness, sheer madness...
By: Bagpuss
Leave a comment