332 comments Add a comment
I am a mother with three children, twin girls aged six and a son aged seven. All my kids now attend a local primary school and I gripe is really with their policy on religious education.
I learned, and I eventually made up my own mind
My parents were atheists, and they allowed me from early age to study all sides of the argument as far as religion is concerned. As I grew older I learned, and I eventually made up my own mind about life, the universe and everything. I favoured the logical and scientific approach, so therefore chose evolution theory as opposed to the creation one.
Naturally, I felt that with my own children it was very important not to force my views on them. I wanted them to have the same freedom that I had as a child and to see both sides of the argument. When the time was appropriate and questions were asked, they could make up their own minds what they believe. Creation, evolution or whatever other religion is flavour of the month, the choice would be utterly theirs to make.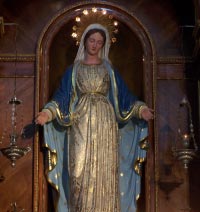 Over the last year however, the infant department of our local primary school has taken upon itself the task of instructing my children in R.E. totally against my wishes. They have them believing that GOD created us, and that they should pray for their food, sing songs such as 'point to the sky and clap your hands for the lord' etc. They are already indoctrinated, and are still too young for me to explain to them any scientific theory that they would understand.
I approached the school and asked them what we could do to resolve this situation. They advised me that I could remove my children from Religious Education classes. However, they then went on to say that this wouldn't really solve the problem, because at infant level there is no SET curriculum; In fact the other lessons throughout the day could well have some sort of religious theme anyway, i.e. Thanking god for their daily crayons or whatever!
The USA have stopped this indoctrination in their schools, in favour of teaching scientific theory and fact, isn't it time we followed suit?
Leave a comment