136 comments Add a comment
I'm sick and fed up hearing about religion on the news and in particular, that yet another pupil has been excluded because they felt the need to manifest their religion by wearing some article of clothing or jewellery. Why can't they get it into their heads that school is the place where you go to learn? Schools must have rules and those rules must apply to everyone.
Sikh girl excluded from school for wearing a bangle
The latest story that caught my attention was the one about the Sikh girl who was excluded for wearing a bangle. Before that we had Muslim head scarves and the Christian crosses causing an uproar in school. Okay a bangle might not seem like a big deal, but schools can't afford to make exceptions and I think that is the point that some of these individuals are missing. If allowed one thing and not another it would only lead to confusion and presumably endless court cases. Also, religious symbols worn in school can't possibly be of any benefit to the educational experience. It only serves to alienate pupils and highlight the differences.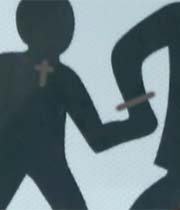 In my opinion, religion is possibly mankind's worst trait. Look at all the wars fought and the inconceivable number of people who have died in the name of religion!
People are still dying, are still poor and hungry, all because of this need to demonstrate to everyone else that your faith is the one true religion. It's a case of, "If you don't believe in my god, you must be evil." It may not start off that way and some people are more devout (read extreme) than others, but it's happening all around us regardless.
A world without religion would be fine by me. Actually, I think John Lennon's song just needs to be shortened to "Imagine there's no religion..."
By: Kenny
Leave a comment