49 comments Add a comment
Ripped off Britain indeed? My gripe is aimed at those people who always feel ripped off and their ill informed rants and badly researched opinions about how they are being ripped off. Let me be clear, if you receive poor service, shoddy products or encounter dishonesty there is a clear reason to be upset and a good reason to shame the responsible and debate the issue.
What I find objectionable are those people in Britain who simply decide they are paying too much. You can see these comments on these pages for a diverse range of products and services such as sandwiches, pizzas, opticians, trendy bars and garages etc. They seem to believe that they are being "ripped off" because the prices of the items do not meet their own highly questionable economic criteria.
Do people not understand that if all these places sell a large sandwich for £3 - £3.50, it is not because they have met up and agreed to rip off the great British public, it is because the item sold has a cost, and a profit should be made (controversial I know - but hey, you can say what you like on these pages).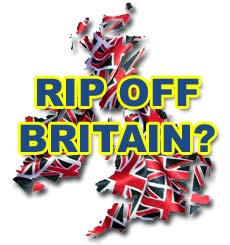 If there are many sandwich shops (just as an example, but you can follow it through with anything) the competition increases, as does the diversity of what is on offer and the price will be kept at reasonable level. Its a pretty easy to understand formula really.
I question those who deem themselves "ripped off", specifically on how they make their living? I guess they are on a salary and only have to justify themselves to their boss once a year at pay review. I doubt very much that they run their own business and if they ever had and, used their odd economic rules I seriously doubt their business lasted very long.
It would be interesting though to turn the spotlight on these kinds of people; to justify their own salary against the products and services their particular company offers and decide if they too are part of the conspiracy which is known as "ripped off" Britain!
By: Rags
Leave a comment