16 comments Add a comment
So the Bird Flu has now been confirmed in the UK. I'm sick and tired of reading and hearing about Asian bird flu. It's not that I am unconcerned, because I REALLY am concerned, especially as I keep poultry myself. As each day passes we keep getting media news on how far the disease has progressed through Asia and now Europe. I believe it is now on our doorstep as a case of the flu was found in an Austrian chicken. Previously the virus had only been detected in wild birds in around seven EU countries, so this latest development is very worrying indeed.
I keep four laying hens and have not eaten a supermarket egg for almost two years. However, my "flock" is now at an increased risk in my opinion. There is actually a vaccine for this particular virus (HN51), which can be used to immunise poultry against the disease. But DEFRA in their infinite wisdom, refuse to let us small poultry keepers have access to it.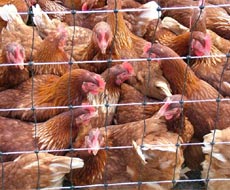 Why is this? Where is the problem and why can't we have the vaccine? I am willing to pay for the vaccine and the veterinary costs associated with administering it. It comes in the form of an injection by the way, so there would be a reasonable cost involved.
I've been led to believe that if vaccinated, all the eggs from that particular bird would HAVE to be marked as vaccinated before the could be sold to the public. Now, as I don't sell my birds eggs and they are purely for home use, what's the problem?
So come on DEFRA, please release this vaccine so that we may protect our birds.

By: Clive
Leave a comment