59 comments Add a comment
Parking on pavements is right up there as a most loathed, but the arrogance of a significant minority of motorists doesn't stop there. I happen to walk along the ring road that encompasses the city where I live fairly often. The walk takes me about 8 minutes and at peak times I don't think I've ever managed to do it without seeing some self centred oaf blithely chattering on a mobile - the record is no less than four.
Today one smug so-and-so was doing so on a nearby side road when he was obliged to stop beside me and, since his window was open, I asked him, more politely than he deserved not to drive whilst on the phone. Typically, his response appalled me even more "So what?
Having lost count of local pedestrians, cyclists and motorists killed, maimed or simply distressed by the my phone call is more important than your life brigade I was absolutely incensed. So much so that I immediately called the local police station and gave them his details (personalised number plate and shiny new Ferrari so he shouldn't be hard to trace).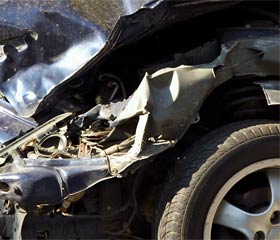 Hopefully his offence will have been caught on CCTV so he'll get a fine. Not that it'll mean much to such a plutocrat! Isn't it time that using mobile whilst driving equals loss of licence? No ifs or buts, no time frame imposed just zip and it's gone!
In my walk along this moderately busy road I have seen motorists having their breakfast, numerous van/lorry drivers studying atlases (inc. one using a magnifying glass!), reading the paper/magazines, doing make-up and even taking photos (it's a great view of the cathedral). No wonder these bozos regularly drive through the pedestrian crossing against a red light!
However, the worst ever example of such idiocy was having a motorist zoom past me at 90+ mph on a motorway whilst reading a novel that was propped up on the steering wheel! No joke!
By: Fess
Leave a comment