175 comments Add a comment
Who could afford to work as a home carer? Well I tried, for about six months and in the end I had to leave because I couldn't afford to stay on. The company, a national one with council contracts really sold the job to me at my initial interview. The pay didn't seem too bad at 7.30 an hour, plus free training (not something I would have expected to pay for, anyway) and the chance to do NVQs. I don't drive but I do have a bike - they told me that all my clients would be in the city centre, 'within walking distance of each other'.
What they DON'T tell you at interview, is that in fact that you are only paid (by the second) for the time you are in a clients house. You have to 'log in' (using the clients phone) and log out, when you arrive and leave. If you log out more than three minutes over the allocated time (appointments are usually for either 15 or 30 minutes)you are not paid, unless there is a good excuse - client requires paramedics for example. And as for all my clients being in the city centre, I was all over the city because they only had TWO in the city centre.
So here's how it is. I leave home at 6.30 am (and I DO live in the city centre); half an hour of cycling to the first client for a 15 minute call and then another half hour cycle to the next client in the city centre. This is followed by another half hour for two more clients, both in a suburb of the city and so on... getting home at around midday, sometimes 12.30 to 1.00pm. I will then go out again for the evening calls at 5pm, visiting the same clients for 15 minutes each all over the city. I will usually get home at around 7.30 - 8.00 pm (four clients, 15 minutes each).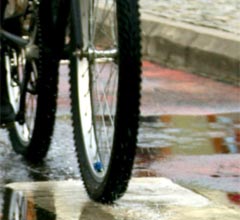 No pay for time spent travelling between clients...
No pay is given for the time you spend travelling between visits which works out at more than the time you spend IN the homes! In the week before Christmas my wages were 54 for five days work. Travelling by bicycle or car wont make any difference and the company is unable to keep it's staff because of the way it pays. Without the staff, it cannot get the clients and so the vicious circle continues. It also means that the quality of care is driven down. The company cannot afford to sack staff who fail to turn up at clients houses or who are otherwise incompetent.
Whilst I was working, there was one other carer who routinely failed to keep his appointments, leaving his clients without their medication, without food or with beds unmade.(some of these clients were incontinent), yet he was not sacked. The company did not have anyone to cover his calls and without carers, would inevitably have lost their lucrative council contract.
In the week before Christmas, this particular carer went abroad. One of his clients, an elderly muslim man with altzeimers was placed on my rota for 'personal care' which involved help with showering. Because of his religion however, he had specified that he did not want a female carer, so when I rang the office I was told to 'take him off' and not to visit. They continued to place him on my rota for the next month and the night before my last day they called to ask me if I had been going. 'No', I replied, 'I was told not to - he's a Muslim and he does not want a female carer.' 'Oh, that's alright', the manager said, 'He's been told to expect a female.' So the next day, I cycled out to his home (45 mins. from the centre) only to be told when I arrived there, that he DIDN'T WANT A WOMAN!!! This makes me an hour and three quarters late for my next client on the other side of the city, whose son has arrived to take her out and who has cancelled the call by the time I get there. I don't get paid for either call.
So it is us, the carers, and the elderly or vulnerable who suffer whilst the profit making care agencies continue to rake in the money. Part of the initial training involves "awareness of clients' cultural sensitivities". If this company had any genuine regard to cultural sensitivities, it would have returned that muslim man to the council in order for them to have placed him with an agency who could have provided him with a male carer. Instead, he was left for a month and a half with no care at all.
It's an absolute disgrace. If there are any people out there with television or radio connections, please consider putting together a documentary about the state of home care in this country. Elderly people, many of whom suffer from dementia and cannot speak for themselves, or who are simply ground down and resigned to missed appointments, lateness and general incompetence are suffering invisibly. They do not want a constant flow of different carers that don't stay in the job because the pay is so bad. It is unsettling for them and upsetting to be always on the verge of losing someone they have got used to. My clients were extremely upset when I left and I was sad to leave them too.
Gripe over - I have a decent job now where I am paid properly. The misery, however, continues for carers and clients right across the country and I want people to be angry about it.
Leave a comment