15 comments Add a comment
They read backwards, write backwards, live in a topsy turvy world and are apparently stupid! This is a common misconception. They don't live in the topsy turvy world, we do. In fact, Dyslexics are highly intelligent people who are simply unable to express their intelligence in the written form.
My son is nine years old; he has always been bright, charming and well behaved. He is above average in maths, but a bit behind in literacy. Oh well, I thought, most of us are good at one or the other, we can't have it all. However the "little bit behind" in literacy turned into rather a lot behind.
My son had a terrible problem with concentration. I did not know that this had anything to do with Dyslexia at the time.
I always thought naively that Dyslexia meant that you couldn't read and you wrote letters the wrong way around. The school suggested I took him to the GP as his concentration was a big issue.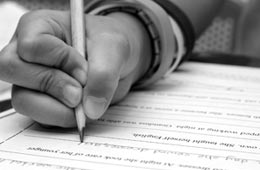 Maybe there is nothing wrong with him...
Off we went, the GP thought he would grow out of it and that he was being a typical boy, but referred him for sight and hearing tests and a brain scan (EEG). Everything came back normal so the teachers and I met up again.
They said, Maybe there is nothing wrong with him, hes just not going to be the academic type. I translated this to mean they thought that he was dozy! So we left it at that and I thought, well son, you may be no lawyer or doctor, but whatever you decide you want to be, Im with you all the way.
School life was hard for my son and literacy was becoming a living hell. I went back to see his teachers and was told that there were now more serious issues. However, the government say that he is not entitled to any help until he is significantly suffering in all subjects.
I could not believe what I was hearing; I reiterated it to make sure. "So basically" I said, "We can't prevent a problem that we know is coming, we have to wait for him to get significantly worse and struggle?" "Yes" she replied.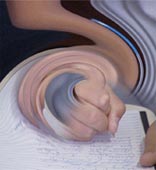 At the end of the academic year he had slipped in all subjects and was struggling. They told me that they thought he had Dyslexia, but as it was the end of term, help would have to wait until the new academic year.
At the start of year five I met his newly qualified teacher who knew nothing of my sons problems and informed me there was no longer any funding available in our area due to Government cut backs. The Government have also recently issued a report stating that children suffering with Dyslexia usually go on to have low self esteem and are at a high risk of behavioural disorders and their associated downfalls.
The only help I can get is privately. It will cost £390 to get him assessed, £50 to interview him then £600 a term to see him for a few hours on a Saturday to help him. It is going to be a tremendous struggle both financially and for my son, but I will do whatever is required to help him.
How on earth will lower income families be able to do this? I find it incredible that the Government can tell us on one hand that our children will become unruly and likely to offend, whilst at the same time cut the very funding that is designed to help. Now you can see I hope that the topsy turvy world is ours, not the children who suffer from Dyslexia.
By: Rays
Leave a comment