153 comments Add a comment
As a pedestrian, how many times have you waited at a set of traffic lights for the signal to cross, then just when you are about to some idiot on a bicycle goes through them completely ignoring the fact that the lights are red and they nearly run you over in the process?
I travel to work in London by train every day, which in itself is a nightmare of a trip. However things get much worse once I'm in the city and on the ten or fifteen minute walk that takes me to the office. Where I work near Farringdon there is busy intersection where two main roads meet and without fail, every time the lights change to red some cyclist has to try and sneak through at the last minute because they haven't got the patience or good manners to wait and let people cross.
Car drivers are pretty bad for this and the ones who get it really wrong end up parked actually on the crossing because they misjudged the traffic flow and didn't get as far as they thought they would. Then they stare at you as you try to negotiate your way around the obstruction with a look of disgust because you have inconvenienced them by wishing to cross the road.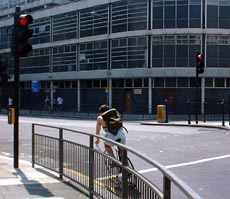 A cyclist going through traffic lights on red
My real pet hate however is cyclists, especially in cities such as London or Oxford. Where do they get off thinking the rules don't apply to them and that they can just go through traffic lights whenever it suits them? As if that isn't bad enough, you will regularly find cyclists using the footpath as a cycle lane or wobbling around changing direction whenever they feel like it without any attempt to indicate.
The bottom line is, a pedestrian crossing is just what it says it is, a place where pedestrians should be allowed to cross safely. So come on cyclists, use your head and please pay the rest of us some consideration.
Leave a comment