129 comments Add a comment
I have been on TalkTalk for about a year. I did experience a few problems every so often and even changed my modem on three occasions. However none of those were a patch on the recent problems I have been encountering with this outfit for the past three and half weeks. I am generally a very placid person, but I found myself being increasingly irate having become so helpless and frustrated by their service.
My Internet connection has been down so much for extended periods and the telephone too has been either dead or extremely crackly, so much so you can barely have a conversation.
I have called TalkTalks technical support team, based in Delhi, about a dozen times a day. It is extremely infuriating as you first have to go through the routine security checks. You then have to explain all over again the difficulties that you are experiencing. Having to do this several times a day, daily for three weeks has been intolerable. Also when you dial their 0870 087 8777 number, (even with a poor memory I have now memorised it), the internet connection stays connected but stops again soon after you end the call!
TalkTalk - "technical issues" or "quality issues" at our local exchange
All I have been told by TalkTalk is that there are "technical issues" or "quality issues" at our local exchange and the engineers are working on it. They say it will last for one, then two, then four days etc. depending on who you speak to.
I had a sick child at home and was totally incensed when they even cut my telephone line for two whole days without any warning. I could not telephone them to complain either without a phone line! Also I could not phone them from my pay-as-you-go mobile as often it could take 20 minutes before they answer. They have in the past kept me waiting for over an hour when directed to call the "higher technical team" or "escalation team".
Each time you call TalkTalk, they make you go through the whole routine of "please check your connections", disconnect each item, switch off, switch on etc etc. and ask you the same questions, whether you have any other connections, wires, fax, printers, telephone extensions etc. etc. as if its the first time. None of these apply to me. It's as if they have no customer records!
As I type this gripe my Internet has been disconnecting frequently today and Ive called TalkTalk of course. The connection may then come back for a minute or so and then disconnect again. I have called TalkTalk literally about 93 times today, just to get a brief connection. I will probably develop RSI at this rate and I have spoken to those poor chaps in India at least 5 times, the last call being an hour ago and lasting about 90minutes (including hold time). Still no joy in resolving the issue by the way!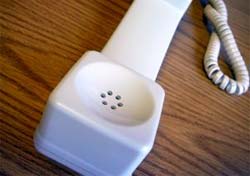 have never been more ready to change provider and dont mind paying a little more now just to save myself a lot of grief! No one knows how long this will take to resolve or even what the problem is. TalkTalk does not warn you in advance if they wish to cut you off for a few days. Nor do they apologise to you. They always make it look as if the fault is at your end. So much so I was advised to change my modem yet again and even to change three micro filters, all in the last two weeks. They keep assuring me that they will resolve it. Yet they do not have the courtesy to send an engineer, even though I have offered to pay for this myself.
My reason for writing this gripe is to provide others with an insight into what level of service they may receive should they consider signing up with TalkTalk. At least this was my experience and it has been a complete nightmare that has practically reduced me to tears.
By: Gerrald
Leave a comment