15 comments Add a comment
I have no Internet connection and I haven't had any connectivity since Saturday night. It feels like my right arm has been cut off because I use the Internet so much. Everything from communication, paying bills, running my business to entertainment and catching up with the news is all done online.
I first spotted the unusual configuration of flashing lights on the router on Sunday morning. I was on my way out so I wasn't too bothered and figured that it was probably just a blip and that it would be okay in a short while. I haven't really lost my Internet connection a great deal in the last two years since I moved here. The odd half hour here and there with no service has been a very rare occurrence, so this time I thought nothing off it as I went out for the day.
I returned that evening to find the router flashing away in a manner that told me there was still no Internet connection; rebooting and powering off for a short period had absolutely no effect so the next step was to get on the phone to my Internet provider. Their network status bulletin informed me that there was no known issues so I managed to navigate my way through to a customer service advisor. My ISP is one of the smaller UK providers, and they were in fact one of the first in the country. The level of service has always been excellent and I like them because they provide a "no nonsense" service and they don't feel the need to hold your hand every step of the way. It's assumed you know what you're doing and they simply provide you with you're connection to the Intranet - unfettered. For this reason and the very relaxed and almost non-existent fair use policy, I chose their business Internet service.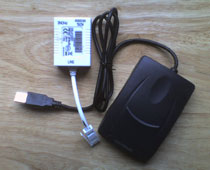 The 'ball' was passed back and forth between my ISP and BT with no one really willing to take responsibility
Over the next hour or so I made four calls to my ISP, each time I was instructed to try something different to see if it solved the problem. If you've ever been in this position before (and I have) it will all sound quite familiar. They'll usually run a line test first, then you have to unplug any telephones, swap the filter, plug the router into the master socket, try a different ADSL cable, try a different modem, try a different router etc. None of this helps of course and you still have no Internet connection. They just need to make sure the fault isn't at your end. At this point they need to log a call with BT to investigate the problem.
As soon as BT was mentioned my heart sank because I've been there before. A few years back at a different address and with a different ISP I had a very flaky connection that would drop out several times an hour. The 'ball' was passed back and forth between my ISP and BT with no one really willing to take responsibility and each blaming the other. It turned out to be a faulty box somewhere down the road and it took no less than six BT engineers to figure this out. I'm really not looking forward to
This is the stage I am at now, playing the waiting game. I'm sat at home tied to the phone like an expectant father, waiting for that first call from BT. The lights on the router are still flashing and I'm pacing up and down. I'd go up to the library to get online and sort a few things out, but of course I need to wait here just in case someone decides to call me! We're four hours into the first day now and I have successfully resisted the temptation to ring my ISP to see if they can hurry things up. I know how that would go anyway, their hands are tied and everything is now down to BT.
Time passes slowly when you've got no Internet connection, or at least it appears to!
Leave a comment