14 comments Add a comment
Here we are again. A Royal funeral and Joe and Josephine Public are on the TV news pouring their hearts out in the most personal way possible about what the Queen Mother meant to them. It happened in 1997 with the death of Princess Diana and it happened again this week. What is it about the death of a Royal that makes people think they have a personal relationship with the members of this most aristocratic of families?
The Royals are the subjects of intensive media scrutiny and we see their faces day in, day out. However, does the fact that their appearance in the media is commonplace make them less distant to us commoners? I think not. Was the Queen Mum really a lovely lady? The fact is we do not know. In April 1999, Princess Margaret scalded her foot getting into a bath, and several commentators referred to the shameful fact that a 68 year old woman had no idea how to prepare her own bath water, never having done it before. The life experiences of the ruling elite of this country are as different to the rest of us as if they lived on the moon.
So why the emotional outpourings?
My gripe on this occasion, however, is not with the Royals. It is with the people Ive seen on the TV news this week. Men and women from Macclesfield and Torbay who stand in front of the mass media and speak of their personal loss. What is wrong with them? Through their tears, do they really believe that the Royals care one iota about the lives of the ordinary people of this country. Would the passing of one of us trouble any of them? Of course it would not.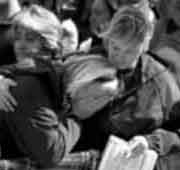 So why the emotional outpourings? And why on public television? Why do these people feel they can appear in my living room and speak in the most personal manner about an individual they had no connection with? The Queen Mum / Princess Diana / Whoever was a wonderful person who was so radiant and, the worst of all the platitudes, had the common touch. We have no idea what these figures are like as people. Professionals choreograph the media events in which they take part; every word that comes out of their mouths is scripted. They have a duty to make public appearances in the same way as pop stars and actors do; we have no way of knowing whether or not they want to or not. Whether or not we should have a Monarchy is a debate that will continue, however if we are going to keep them lets at least see them for what they are. I have nothing personal against the woman who died last week, but I didn't know her so I can't say anything good about her either. She was Elizabeth Windsors mother, not mine or yours
By Paul C.
Leave a comment