2 comments Add a comment
We all work hard don't we - well at least most of us do I think which is why I think we at least deserve to have a decent lunch break. I'm referring to an office job throughout this gripe by the way because I'm fully aware that in a manual job such as working in a warehouse for example, the notion of a decent lunch break doesn't really exist. Barely enough time to shove down a few soggy sandwiches and lukewarm tea before it's time to go and row with the other slaves. This is an entirely separate gripe and one I shall perhaps cover one day.
A decent lunch break should consist of somewhere between half an hour and an hour where you can relax, eat your lunch in peace and quiet and spend the time in a way that you choose to without any interruption. By the way I'm more in favour of the lunch hour than the lunch half-hour, but I can appreciate that flexible working hours may mean that the later is the norm. Nevertheless, that time should be yours and yours alone. The business isn't paying you during that time after all.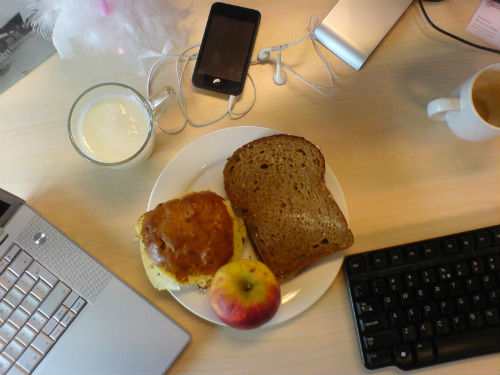 Why then do some people insist on taking up YOUR time with business matters. For example I worked on a project recently where we would have a weekly meeting. The lady managing the project insisted on scheduling a meeting every Wednesday at 1pm. When do most people have their lunch? Most people would go on lunch between 12.30pm and 1.30pm, so why not... let's just have a meeting in the middle of that? Your options are to eat early, say sometime after midday, or eat afterwards and bearing in mind some meetings can go on for a couple of hours by 3pm you'd be absolutely ravenous! By the way, I'm not in favour of those "brown bag" meetings where eating is acceptable. Who wants to watch someone noisily munch a BLT and talk complete bollocks at the same time? Then of course if you chose to eat before the meeting you'd be more hungry than usual at the end of the day. Well that's all fine but don't forget the time that you've lost - it's YOUR time after all and you've given it up for free! Who would dream of going back to their desk at that time and pottering around on the BBC news website?
Meetings are one thing, but then there are those who think it's OK to just pop along to your desk during the lunch hour because they know you'll be there and that they can get your attention. Well thanks for that! Let me pop along to your house later on this evening when your watching Dragons Den with your dinner on your lap. Let's see how you like it when I want to go through some figures that aren't quite right!
Finally. On the subject of timing Who in their right mind would organise a meeting at 9am? Do these people fly a helicopter to work or something? Do they know what the roads and trains are like out there? Oh of course the don/t, they got in at 7am so they can plan the 1pm meeting that you're going to today. Selfish gits!
Leave a comment