97 comments Add a comment
Last year in the England and Wales alone there were nearly 11 million eye tests and no doubt many of these individuals required their vision to be corrected using glasses or contact lenses.
Glasses can be bought for less than a hundred pounds, but the average pair costs a little over this and you could find yourself paying several hundred pounds for nice frames and extra thin lenses if you really want to go to town. Don't you wish that your vision was perfect now?
These prices might seem quite reasonable, but if you need to buy a new specs every two or three years how much is this going to cost you over a lifetime? It isn't all bad news though because it is possible to have your eyesight corrected on the national health and glasses can be obtained at low cost or even free. Also, depending on your occupation it may be possible to claim back the cost of the eye test and some of the cost of spectacles.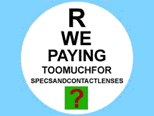 A good example of this is if you use a computer for long periods of time. Most good employers take the health of their employees very seriously and will usually encourage you to have your eyes tested regularly if you work with display screens.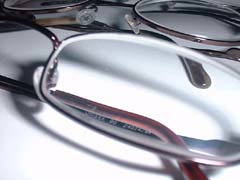 The downside of national health glasses is that the frames are usually very plain and special thin lenses for those of use with poor eyesight are usually not an option. I remember wearing these Clarke Kent type glasses when I was younger with bottle top lenses and thick black frames. I personally don't think they were all that appealing but I hear that that look is back in now.
NHS spectacles are much better these days, and if you're on a budget then you should be able to find something that suits you in the looks department and more importantly properly corrects your vision.
Leave a comment