39 comments Add a comment
In 1999 I brought a bog standard VW Golf with a 1.4 engine. I had been driving a Toyota Starlet for several years before with very little trouble with repairs. But after a promotion at work I could afford a nice new car. Whilst searching for this dream car, my ex partner whom I lived with at the time, advised me to buy a VW. As my auntie was moving to France and I planned to drive over often for mini breaks to visit her, I would need a reliable strong car to do this.
a minor fault with the electrics
I finally found my lovely VW Golf and counted down the days until I could collect it. My best friend had also brought a Golf a few months before and she swore by it. Best car she had ever driven she boasted!

After owning my car for 4 years there seemed to be problems with the ABS light. I took it into a VW dealer who fixed the problem saying it was a minor fault with the electrics. All cars get minor faults, right?
Well after 6 months its started again so I took it back and again VW said minor fault. It was all fixed and I just put it down to one of those things. My ex promised me that he has always bought VW and it was nothing to worry about. I must add that this is the man who kept an old Jetta on my drive that he was constantly repairing. He also owned a Golf that was just a year older than mine, again as his car got over 3 years old he was constantly repairing it. He was also in the local VW fan club!!!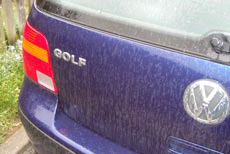 The next thing to go on my car was the oil light. This time to try and save money I thought I would ask my ex (the VW expert) to fix it as the last 2 repairs has cost me a fortune. He changed the oil but this didn't stop the light always being on. So I had to grit my teeth and go back to the main dealer. Again it was a minor fault and it was repaired at my cost. A few months later the engine light was flashing and the car was vibrating when I was sitting in traffic. This time my ex changed the spark plugs and it made no difference. To his horror I took the car to a private garage where they said it was a fault with the electrics and would cost me silly amounts to put right. I complained to VW that this was missed and they agreed that as they always service and repair my car, they would try to fix it at a cheaper price.
Six months later I was visiting my friend (who also owned a Golf but used it as a part exchange on a Vauxhall due to the cost to repair her electrics!). The drive home was through a country lane. It was late at night and the car decided it would start vibrating again. The oil light came on and then the engine light. I pulled over phoned my ex to come and look at it then follow me home. When he got there and tried to start the damn thing there was no life in it at all; it plain refused to start! The next day I got another local garage to take a look. No way was I listening to VW again. The mechanic was very honest and explained there is a design flaw in VW's above an R reg. He could fix it but advised me there was no point, I would be back in 6 months for the same repairs again, a year if I was lucky. My ex insisted this was a good deal. "Its a VW and they are strong like a bull" he said. More like weak as a kitten I thought.
I decided to investigate these issues myself and found that many other VW Golf owners had similar, if not the same problem and they were advising against buying the newer model Golf. My ex of course wouldn't accept this and said that they were probably other car dealers trying to flog their own cars. By this time he had spent twice the amount I had on his Golf, but wouldn't admit that there was a problem with them. In the end I sold parts from my car to try to raise the money I had lost in repair charges.
I had to be without a car for some time but I am now the proud owner of a Ford Fiesta which I brought second hand as I'm still paying the loan for my 15k Golf. My fiesta was new in 1997 and drives me to France and back as well as to work on a daily basis. On its last MOT it sailed straight through. I also passed my ex (the VW fan) the other day whilst he was driving his new Vauxhall Astra! Seems some of us take longer to learn!
By: Nicky
Leave a comment