205 comments Add a comment
I have always had old bangers whilst bringing up my family; I just couldn't really justify the expense of a new car. However having put both children through university at great expense, I decided to treat myself.
I test drove a few models, but had a good feeling for this VW Golf. You pay a bit extra but with German reliability you don't mind to certain extent. I bought VW Golf 1.6SE FSI vehicle in May 06. It has been back to the workshop about seven times for various problems since I have owned it.
I recently broke down on motorway (17/10/06); the car just lost power in fast lane which is extremely dangerous. My wife and I were on hard shoulder for hour and half on this occasion. A tow truck came out and he managed to get the car started. The plan was that he would then follow us to the next junction, but we never actually got there as it broke down again with same problem. In the end we had to be towed to my home address.
Unreliable VW Golf - two days later I broke down again...
I rang Volkswagen in Leicester the next day for there prognosis whereupon the advised me to bring the car in. I told them it wouldn't start and we arranged for VW Assistance to come over, get the car started so that I could get to the garage. The car came back two days later and they informed me that it was all okay now they had updated the software. I didn't quite understand that!
Two days later I broke down again, same problem as before; yet again towed to garage by VW Assistance. The man who came out stated that he knew what the fault was as he plugged it into his laptop on the side of the road, he was 99.9% certain and he would be telling the garage when we got the car there.
I rang the next day to be told that the problem wasn't what the roadside assistant had said and that it was something else very confusing! By now I've pretty much lost the all confidence in this car not knowing if I'm going to make it to my destination or not.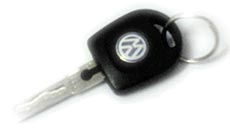 During the week they have it in the workshop again; they ring me to say that on test run it has broken down again. Strangely, they, they ask me who I used to tow me in before as they needed to get it back to VW Leicester.
After a week at the menders they proudly tell me my car is ready for collection, whoopee I thought! Sadly my excitement was cut short, because when I picked the car up there is a rattle coming from the engine that wasn't there before. Also they didn't put the grill back on that covers the tow hook at the front of car.
I am taking my Volkswagen back to Leicester on Mon 30th Oct. I really don't want this car any more. I have bought a load of rubbish and I would really like my money back, or perhaps a different that may restore my faith in Volkswagen again.
Ihave spoken with VW customer services but heard nothing since.
Leave a comment