28 comments Add a comment
One of my favourite songs from Meat Loaf?s Bat Out Of Hell album is the title track by the same name, but it really annoys me when I?m listening to it on the radio and the song gets cut short.
I know that radio DJ?s have to do a certain amount of talking, they?ve got to play adverts, jingles and there are regular news broadcasts and traffic reports. I suppose that it must be quite hard work fitting all that into the programme and trying to make it an interesting show. I really wish however, that they wouldn?t play the cut down versions of songs that I like.
Bat Out Of Hell is just one great song from a really brilliant album by Meat Loaf, but I think the song is spoiled when the proper ending from the album version is completely missing. I used to play this record to death when I was a youngster, even though it was an old scratched up copy that I bought second hand! My parents must have been really fed up hearing it every night! I guess Meat Loaf?s theatrical rendition style of that title track Bat Out Of Hell just kind of captured my imagination. When I listen to it, I still can almost imagine that it?s me riding on that silver black motorcycle with the engine throbbing away.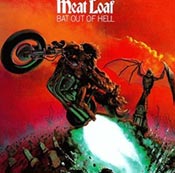 Radio - radio fades out to the ending just as the motorcycle starts...
Anyway, the version they play on the radio fades out to the ending just as the motorcycle starts to roar and I find it extremely irritating! Do they have to keep songs to a certain length or something? Do they ever get to play the proper version of Bat Out Of Hell all the way through?
I haven?t been able to find out whether or not this version of the song has actually been released to the public. I suspect that it may be a version that only broadcasters use, but I would be very interested to hear if anyone knows that this is not the case.
Surely I?m not the only Meat Loaf fan that looks forward to tapping my foot along to this classic song. Please, play the full version!
Bat Out Of Hell Artwork - I came accross this site by accident, it's a fantastic painting of the Bat Out Of Hell album cover on a garage door (at least I think thats what it is!).
Leave a comment