7 comments Add a comment
We are trying to do the right thing at the moment under the current Covid19 restrictions by staying at home and not mixing with other people. One of the things that we are also doing is using online food shopping delivery instead of going out to the supermarket. One of the reasons for this is also because it was starting to feel less safe as people started ignoring mask and distancing rules. This may have changed with the mandatory mask initiatives in some of the big stores, however I have so far decided not to go and find out.
We've had three home deliveries recently and the most recent was this afternoon from Iceland. Every single order so far has had issues with items missing and when substitutions have been made they've been inappropriate.
The first order was from Asda and this was probably the best experience out of the three. I've actually done a couple of orders through Asda and both times products were unavailable and on one occasion they charged me for apple juice I hadn't received. However, to be fair the refund was issued very quickly. The delivery driver was polite, wore a mask and stepped back so that we could collect the shopping.
Next up we had a delivery from Morissons and this was probably the worst online food shopping experience so far. Again we had items missing and I only received half the amount of apple juice I'd ordered and there were some poor substitutions, for example a packet of lentils instead of barley. In one case, however, I'd have been happy with any reasonable substitution as some cat food was on the order and we were depending on it. What would have happened if it was much needed baby food? More importantly however, quite a few of the products were damaged. We had a tray of eggs with more than half of them smashed, a six pint carton of milk leaking, broken bananas and rotten potatoes. The driver wasn't particularly friendly, didn't observe social distancing and kept trying to hurry us up getting the items out of the basket. Whilst we did get a refund, it took quite a while to get it all sorted out with Morrisons.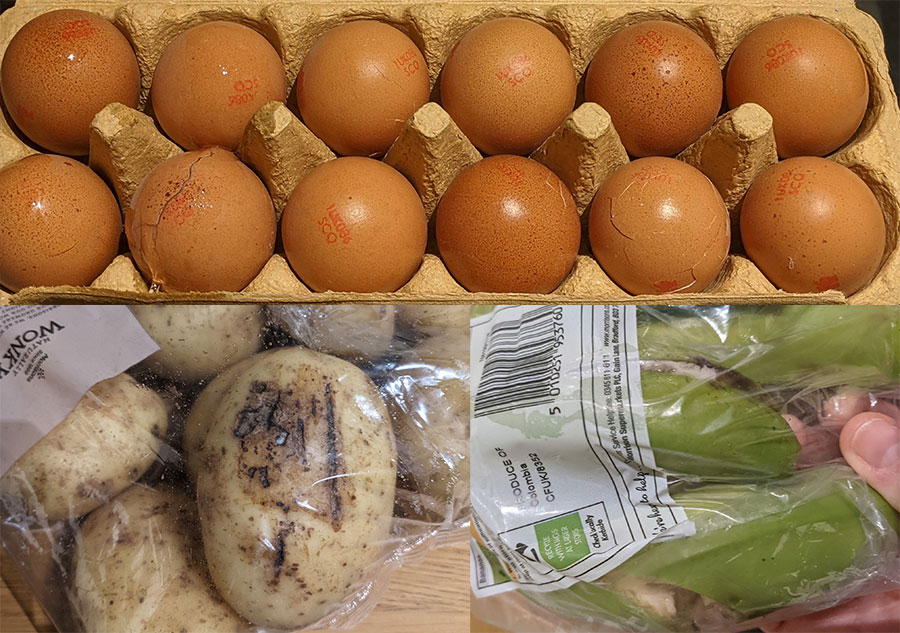 Today's order from Iceland whilst not as bad as Morissons still wasn't that great with around 7 products missing, including the apple juice - again. We also didn't get potatoes either which we have just about run out of now.
I know that things are tough for everyone at the moment and I am sure that people working in supermarkets are doing the best they can. We appreciate that, but it all seems to be a bit erratic when it comes to fulfilling the orders. Would rather not go into the store but it might be less stressful after all and I'd probably go back to Lidl.
Leave a comment